Represented by Marcia Evans Gallery
Statement
Spatial Contradictions
I call my style Geometric Surrealism, which is the manipulation of the representation of physical spaces to create a highly distorted vision of reality. My paintings start with architectural elements – the illusion of rooms, staircases, and hallways. I employ multiple viewpoints of these spaces and corridors, which are simplified and distorted to produce a composition of geometric shapes and planes with graphic overtones. This creates the illusion of depth with the X-Y-Z axis, scale, foreshortening, and place in time (the figures placed in the composition). These figures, representing past; present; and future, are based on the theory of Box Universe and the use of past memories and experiences to mold present and future experiences. The figures act as a design element that leads the viewer through the compositions.
Spaces are stretched and contorted, almost to the point of becoming paradox illusions. Varied light sources serve to deepen the impression of disjointed space. Forms rise and recede simultaneously, as perspective seems to oscillate. Spaces that should be comfortably familiar instead become ambiguous and conflicting. The only thing that is certain are the spatial contradictions. This framework challenges the predictability of the observer's point-of-view. A tension is created in trying to reconcile the spatial contradictions. These subtle shifting spaces operate on a kind of dream-logic.
As an artist, I am interested in the subconscious workings of the psyche. My work serves as a meditation on the subjectivity that informs our interpretation of experience. This focus converges with a more formal interest in pushing the precepts of representational painting. I aim to create compositions that both surprise and intrigue.
This series of paintings depicts one's movement through life and shows how our lives are not
as linear as predicted. I believe that life gives multiple choices on a daily basis; lines break off
to create new lines, new angles, doors open, planes shift, and stairways appear to reveal a Geometric Surrealism.
"The architecture structure of our soul would be conceived in the image of the labyrinth" – Nietzsche-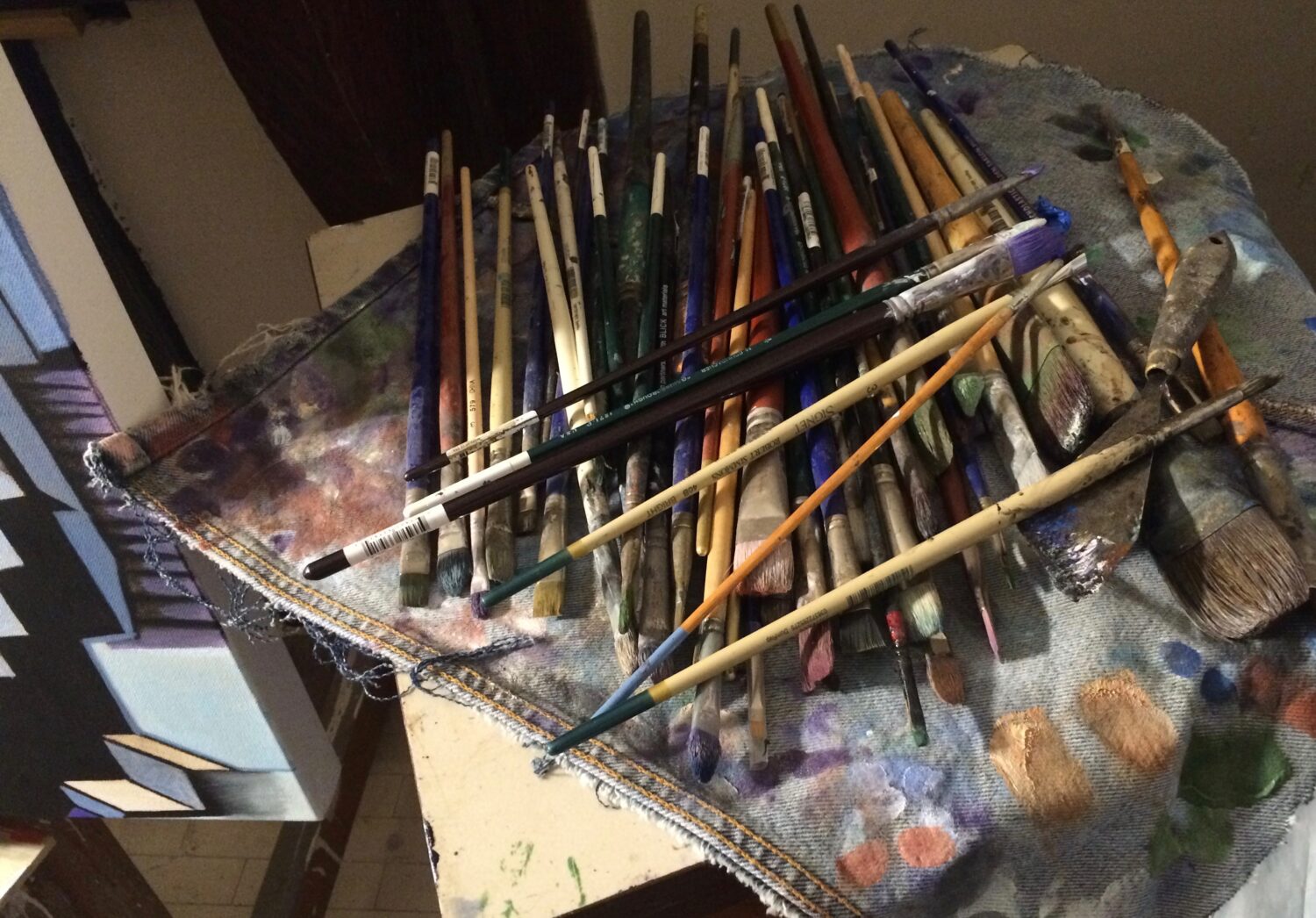 Exhibitions
2022
Garrett Museum of Art, Garrett, IN
Marcia Evans Gallery, Columbus, OH
Susquehanna Art Museum, Harrisburg, PA
2020
Marcia Evans Gallery Columbus, OH
Springboard Arts Chicago, Chicago, IL
OOVAR Juried Show, Carngie Gallery, Columbus, OH
Idea Foundry, L Gallery, Columbus, OH
2019
Hilton Gallery, Columbus, OH, Solo Show, September 2019
Marcia Evans Gallery, Columbus, OH, Group Show, June-August 2019
Wittenberg University, Springfield, OH, Solo exhibition, February 2019
2018
Evansville Museum, Evansville, IN, 59th Mid-States Art Exhibition, December 2018
10th West Gallery, Indianapolis, IN, Group show, November 2018
Ohio Art League X Space, Columbus, OH, solo exhibition, February 2018
Ohio Art League Spring Juried Show, Columbus, OH, April 2018
2017
Ohio Arts Council Biennial Juried Exhibition, Columbus, OH, November 2017
Ohio State Fair Juried Fine Arts Exhibition, Professional Division, Columbus, OH July 2017
R.A.W. Gallery, Columbus, OH, March 2017
2016
Hugh N. Ronald Gallery, Portland, IN, September 2016
Triangle Gallery, Dayton, OH, June 2016
Marcia Evans Gallery, Columbus, OH June 2016
Hannah Bocal Busch Gallery, Bellaire, TX, April 2016
2015
First Commonwealth Bank, Columbus, OH, Nov 2015
TY Fine Furniture, Columbus, OH, May 2015
RAW Gallery, Columbus, OH, March 2015
2014
Carnegie Gallery, Columbus, OH, December 2014
CS Gallery, Columbus, OH, December 2014
TY Fine Furniture, Columbus, OH, August 2014
CS Gallery, Columbus, OH, July 2014
2013
CS Gallery, Columbus, OH, November 2013
2008
BoxHeart Gallery, Pittsburg, PA, 2008
2005
Cleveland Public Theater, Cleveland, OH, 2005
ALLGO Signs, Cleveland, OH, 2005
Ingenuity Festival, Cleveland, OH, 2005
2004
ALLGO Signs, Cleveland, OH, 2004
High Road Gallery, Columbus, OH, 2004
Carl Soloway Gallery, Cincinnati, OH, 2004
Gallery 754, Akron, OH, 2004
2002
ALLGO Signs, Cleveland, OH, 2002
Davenport Gallery, Columbus, OH, 2002
Lanning Gallery, Columbus, OH, 2002
Roberts Triangle Gallery, Dayton, OH, 2002
2001
Hypotenuse Gallery, Dayton, OH, 2001
2000
Lanning Gallery Group, Columbus, OH 2000
1999
Lanning Gallery Group, Columbus, OH 1999
Awards & Recognition
2023
Ohio Arts Council, Individual Excellence Award
2019
Greater Columbus Arts Council, Artists in the Community award, 2019
2018
Greater Columbus Arts Council, Artists in the Community award, 2018
2016
Greater Columbus Arts Council, Artists in the Community award, 2016
Baltimore LED Art Billboard, 2016
2014
Greater Columbus Arts Council, Artists in the Community award, 2014
Collections
Columbus Museum of Art, Columbus, OH
Hilton Columbus Downtown Hotel, Columbus, OH
Hilton Towers, Columbus, OH
Greater Columbus Convention Center, Columbus, OH
Northern Kentucky University, Highland Heights, KY
Press
ArtAscent Art & Literature Journal "Artist Interview", March 2019
Creative Digest "Artist JT Thompson on the hustle", May 2018
The Woven Tale Press "Vol. VI #2 Woven Tale Press:", March 2018
Abstract Magazine Contemporary Expressions "Art Feature", Feb 2018
The Woven Tale Press "Geometric Surrealism", December 2017
On Art & Aesthetics "Distorted Spaces, Misleading Lines", August 2017
Professional Artist Magazine "Artist Spotlight", June 2017
Columbus Alive "Exhibition Preview: JT Thompson's Into the Labyrinth at RAW Gallery", March 2017
Ragazine.cc "Artist Spotlight", September 2016
Dayton City Paper "JT Thompson's Illusion at Triangle Gallery", June 2016
Columbus Alive "Exhibit preview: "Paint By Numbers" showcases unique and rich collaboration", March 2015
CS Gallery Artist Round Table Interview Series, Jan 2015
Now It's Dark Magazine "Spotlight: Columbus Artist JT Thompson", August 2014
Pittsburgh Tribune Review "Boxheart's 'Art Inter/National' builds a strong reputation", Jan 2008
Publications
Texting- 1st Year Fiction, 2005
The Art Fix Cleveland Connection, May 2005
Philadelphia Stories "Skylight: Novel Excerpt," Fall 2004
Philadelphia Stories "Catherine Street," Fall 2004